The Warmth and Wellbeing Scheme aims to improve the living conditions of vulnerable people living with chronic respiratory conditions.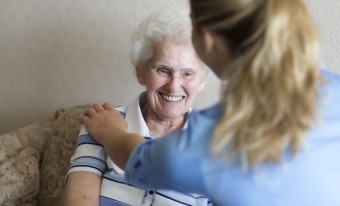 Healthier homes for those with chronic respiratory conditions
The scheme works on a referral basis. It aims to provide free, extensive energy efficiency upgrades to eligible homes making the home warmer and cosier to live in. The upgrade to your home will also benefit your overall health and wellbeing, especially during the colder weather.
Energy efficiency measures available
A variety of energy efficiency upgrades are available through the scheme. If you have been referred, your home will be assessed by an SEAI surveyor to identify which upgrades are most suitable for your home. Improvements may be made to your:
Attic – insulation and ventilation
Walls – insulation and ventilation
Boiler – replacement, including heating controls
Windows and doors – replacement where inefficient
Delivered by SEAI, the government and the HSE
The initiative is led by the Department of Communications, Climate Action and Environment, along with the Department of Health and the Health Services Executive (HSE). Our role is to manage the delivery of free energy efficiency measures to eligible homes, working closely with the HSE.
No cost to you
Warmth & Wellbeing measures are carried out at no cost to the homeowner.
To qualify for the scheme
This is currently a pilot scheme so eligibility is limited. To receive support, the following criteria must be met:
You must be living with a chronic respiratory disease and be referred to the programme by a HSE official;
You are aged 0-12yrs inclusive or 55yrs and over;
You must be resident in the house where the works will be carried out;
A member of the household must be in receipt of fuel allowance or the one parent family payment in respect of the child applying;
You must reside within the area designated for the pilot scheme, namely Dublin 8, 10, 12, 22 and 24;
The home must be owner-occupied or rented from a local authority/approved housing association.
Home must have been built and occupied before 2006. This means the ESB meter was connected and property lived in prior to 2006.
How to apply
This is a referral based scheme and no direct applications to the SEAI are possible. To qualify for the scheme you must be referred by the HSE and meet all of the eligibility criteria. If you meet the criteria, fill out the relevant application form and send it to your HSE representative for referral.
How the process works
Apply to your HSE representative using the form above
If your application is approved by the HSE, you will be contacted by a surveyor acting on behalf of SEAI who will arrange a time to visit your home.
During the visit the surveyor will assess your home and ascertain the measures which may be required.
If eligible works are identified, then an SEAI appointed Installer will be assigned to your home. The Installer will contact you to arrange a time to install the measures.
Works are completed. Due to high demand, it may take up to 12 months after your survey before works are completed.
A full inspection is carried out.
All homes receive a post works Building Energy Rating (BER).
FAQs
Is my data confidential?
All medical details are held by the HSE and will only be used for research purposes after personal details are removed. SEAI hold no medical details and your personal details are held subject to data protection and are only shared with contractors for the purpose of service delivery with your permission.
Contact us
HSE Representative: 01 9214909 or  01 4275032
SEAI: Freephone 1800 250 204