Reduce Your Use - Heating System Health Checks
The Office of Public Works (OPW) share advice on four of the top heating system health checks you can make in your home.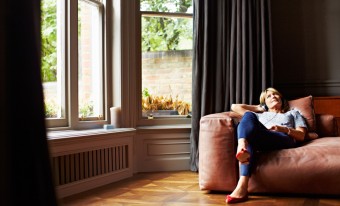 Managing home energy costs are tricky right now - to say the least. However, keeping your boiler and radiator system in good working order may help to take the sting out of it a little.
If you are considering using portable electric radiators at home rather than putting the central heating on, we would encourage you to review what the real costs will be and take note of all the safety issues around using this type of heating. This blog post from Which covers 10 things you should never do with your electric heater, from energy efficiency to fire risks. 
Some electric radiators can be fine for providing a quick heating fix for a short period of time, such as for a 10-minute blast on a particularly freezing morning. If your central heating system isn't working they can also be a useful backup.
To help you keep your home heating systems in top condition this winter, we have selected four top heating system health checks you can make in your home. Have a look below, we hope they will help. 
You can also review the 10 minute webinar which covered the topic of radiators including portable electric ones - click here to watch the recording.
#1
Make sure your radiators are heating up
The whole body of a radiator should get hot. If it doesn't, then you won't be heating your home efficiently. You'll have your heating on for longer with your boiler working harder resulting in higher energy bills. 
Where a radiator is cold when it should be hot, it is often a sign of an underlying issue: 
Radiator is cold at the top - the radiator likely needs bleeding.
Radiator is cold at the bottom - there is likely a build up of sludge and the heating system needs to be cleaned out by an engineer. When they do this they should add a central heating inhibitor - a chemical liquid that protects against sludge build up in the future. 
A specific radiator is colder, or heating up slower, than others - it is likely that your radiators need to be balanced. 
When you turn your heating back on this autumn, you can bleed the radiators yourself. This is a quick fix that won't cost you anything upfront. This video from the AA, takes you through it: #WarmToAutumn: How to bleed a radiator - YouTube 
If your system needs cleaning or balancing it is best to call out an engineer. Boiler engineers may be able to do this for you as part of a service. While this will cost some money upfront, in most cases, the boiler can then be run at a lower temperature, increasing efficiency and saving you money in the long run. 
#2
Check your system's pressure
It's also worth checking the pressure gauge on your boiler regularly. This tells you the pressure of the water circulating in the heating system. If it's too low, it will make your system inefficient, using more energy to heat your home.
The exact recommended pressure level will vary depending on the boiler manufacturer, but generally, anywhere between 1.0 and 2.0 bar is ideal.
On most newer boilers, the pressure gauge will be on the front of your boiler or under the control panel. On older boilers, it may be harder to find. Check your boiler manual if you can't find it and for help with increasing the pressure.
This blog post from energy firm EDF has a useful guide, which you can access via this link - Boiler Pressure Guide.
If the boiler pressure keeps dropping, there could be a leak in the system. Ask your plumber to check it.
#3
Make sure the space around radiators is clear
Radiators need a clear space around them. If the radiators are blocked by furniture, it means warm air cannot easily be circulated around the room, so your heating will be on for longer than necessary to heat the room.
You can reduce your heating costs by ensuring each radiator in your home is able to circulate heat properly. For example, moving furniture away from them, not using radiator cabinets to disguise them and making sure they're not hidden behind curtains.
It is also best not to dry clothes on radiators. Not only will it hike up your energy bills due to the increase in power consumption but it can lead to damp conditions where mould spores thrive, posing health risks.
#4
Get your boiler serviced
It's a good idea to get your boiler serviced every year. If you want your boiler to be running as efficiently as it can, it needs to be kept in top working order.
An annual service will ensure your boiler remains within warranty and your heating system performs efficiently. Having one also helps reduce the odds of a part breaking unexpectedly and lumping you with a large repair cost and potentially no heating.
SEAI's Home Energy Plan
We will send you regular emails with advice for home heating, electricity and appliances, and travelling. You can implement the advice at your own pace, learning how to break the bad habits we all have, save significant amounts of energy along the way, and reduce your energy bills.