Learn more about how your organisation can implement a staff engagement programme on energy saving in the workplace. Our supports focus on behavioural change and how you can manage this successfully.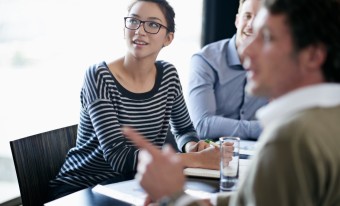 Introduction to staff engagement
When working on your energy management strategy, it is important to address the role of all staff in its implementation. The co-operation and enthusiasm of all staff will determine the benefits gained by the company and the longevity of energy savings.
For organisations undertaking ISO 50001, there are compliance requirements relating to internal and external communication activities and staff involvement in the application of the standard.
Below we have set out a structured and logical sequence of activities that will minimise the risk of not achieving the programme objectives. We have selected some key downloadable templates that will support your overall strategy. We have also included an example of a completed strategy and action plan document, for a fictional company.
Staff engagement approach
To support your staff engagement programme and make it more accessible, we have adopted the Plan-Do-Check-Act approach. This structured approach consists of 6 stages.
1. Commit
The commitment of senior management is crucial. This is essential to driving the energy engagement programme and showing staff that the organisation is serious about energy management.
2. Identify
The identify stage is where you assess your current situation, including issues such as current engagement levels, target audiences, significant energy users, stakeholders etc.
4. Implement
If you have planned your activities thoroughly, taking action should be fairly straightforward, however it still takes time, effort and commitment.
5. Review
It is important to objectively review and evaluate your engagement programme and see if objectives and targets are being met.