Learn more about the remarkable and innovative projects of the SEAI Energy Award Winners 2022.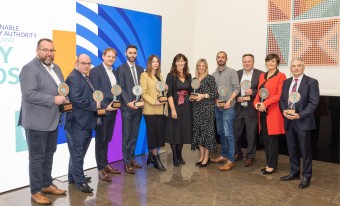 Young Energy Champion
Heather Doyle
Heather Doyle is a 15-year-old student from Loretto Secondary School in Clonmel, Co Tipperary. She is one of the country's youngest climate activists. She is a member of Fridays for Future and part of An Taisce's Climate Ambassador programme. Heather works climate change into as many conversations with her schoolmates as she can and urges them to research the topic themselves.
She is involved in the Irish Second–Level Students' Union in Tipperary. And is also public relations officer of Tipperary Comhairle na nÓg. She recently starred in Wind Energy Ireland's new video; 'Our Energy, Our Future' to help promote the importance of green energy. In a recent interview with RTE discussing COP26, she called for more lesson time to be devoted to climate change at all levels of education. "Educating young people is such an important tactic to use because we'll take that knowledge and remember it for later life when we are the policy makers and leaders".
Outstanding Contribution to Sustainable Energy
Val Cummins
Dr. Val Cummins is currently the Operations and Projects Director for Simply Blue Energy Ireland, who are a blue economy developer, with a focus on floating wind, wave and low impact aquaculture. Val holds a PhD in Coastal Management, is an Eisenhower Fellow, and has participated in Women in Leadership executive training at Harvard University. Prior to her current role, Val held roles as a Senior Lecturer in Marine Governance and Innovation at UCC, and was a founder and Director of the Irish Maritime and Energy Resource Cluster (IMERC), leading the delivery of the Beaufort Building, a national maritime innovation hub. Val also served as co-chair of Future Earth Coasts from 2016 to 2020, facilitating the development of a community of scientists and practitioners from around the globe with a vision to support transformation to a sustainable and resilient future.
Val's move to industry was inspired by a desire to have an impact on the energy transition in a company that is dedicated to sustainable development goals for the oceans and seas. Recently described in the Irish Times as the only person in Irish corporate life who has dissected 2,000 edible periwinkles, it demonstrates her deep practical understanding of the impacts that climate change is having on our marine environment. Ireland has an enormous ocean resource, which will play a key role in our clean energy future. This future must be realised while protecting the environment and communities that rely on a healthy ocean. Dr. Val Cummins experience, knowledge, track record and vision embody this goal of utilising the vast resources of the ocean in a way that is sustainable and positive to those who rely on it.
Small and Medium Business
The FACTORY
The FACTORY is an eco-print and graphic design studio. The FACTORY is now generating 65% of its electricity on-site via wind and solar power. It has installed LED lighting, air-to-water heating, a solar PV array, a small wind turbine and invested in an electric vehicle for local deliveries. Other measures implemented include a four-day work week and managing five acres of land for biodiversity. The FACTORY is determined to make its sustainable energy journey fully transparent and it has shared its journey and results on social media. The data shows how small businesses can be more sustainable and the FACTORY wants to empower similar businesses to reduce their carbon footprint.
Large Business
Johnson & Johnson Vision Care Ireland
Johnson & Johnson Vision Care (JJVC) in Limerick is the world's largest contact lens manufacturing site. It is the third largest energy-consuming site within J&J worldwide. The site has led the way with its energy programme. It has delivered substantial energy, CO2 and financial savings. The activities have set the site as the benchmark for energy performance in J&J worldwide. Their ambitious targets include 100% renewable electricity by 2025 and carbon neutrality by 2030.
They are the first J&J company to install onsite wind turbines. They also have a geothermal system to provide cooling for the plant. They constructed a new gym and medical centre which was Ireland's first greenfield site to achieve SEAI EXEED Certification, resulting in a 25% energy efficiency improvement versus building regulations. In total, the JJVC energy team has measured energy savings of over 45 GWh (gigawatt hours). Savings were made through continual improvement initiatives and energy efficiency measures.
Public Sector
Bus Éireann
Bus Éireann is Ireland's national bus operator and in 2019 carried 89 million passengers. It has aligned its strategy with the Climate Action Plan 2021 and is committed to improving its fleet's energy efficiency. It also wishes to decarbonise public transport. Its sustainability strategy outlines a roadmap with targets and performance indicators. By 2021, approximately 230 more energy efficient, low or zero emissions vehicles were purchased, representing an upgrade of 20% of the fleet operated or owned by Bus Éireann.
The fleet transformation has involved replacing fleet vehicles with more energy efficient and lower emitting Euro VI, Hybrid and Hydrogen Fuel Cell Electric Vehicles. In 2021, there were over 240,000 emissions-free kilometres completed. The associated emissions reduction is more than 90 tonnes of CO2. 63% of Bus Éireann's total fleet are Euro VI cleaner emissions standards. By 2035, 100% of the fleet operated by Bus Éireann, on behalf of the National Transport Authority, will be zero-emissions vehicles.
Transport
McCulla (Ireland) Ltd
McCulla (Ireland) Ltd is a family-owned temperature-controlled storage and distribution company. They have developed a closed loop from food waste to fertiliser using an anaerobic digestion plant. This plant enables the company to produce its electricity from food waste. The bio-methane gas generated is used to power their transport vehicles. These first vehicles are just the beginning, McCulla aims to phase out diesel in favour of biogas. Their aim is to further reduce emissions and reliance on fossil fuels. McCulla's sustainable transport model is an extremely powerful message for the industry. If a relatively small family-owned operator from Ireland can do it, so can others.
Inspirational Energy Community
Corca Dhuibhne SEC
Corca Dhuibhne Sustainable Energy Community (SEC), established in 2018, is part of the collaborative Dingle Peninsula 2030 initiative. They actively collaborate with the local community, including schools, business, transport, farming and tourism sectors. Their goal is to enable broader societal changes and foster a sustainable low-carbon transition. The Dingle Hub is working to identify employment opportunities and develop a sustainable economic future for the area.
Through engaged research with MaREI, they are tracking, analysing and publishing experiential learnings. This is to help inform policy and practice, both locally and nationally. So far engagement events have reached up to 2,000 people from all sectors of society. Activities include an Anaerobic Digester Feasibility Study, audio training material, home trial on solar PV, battery management, heat pumps and electric vehicles. This project illustrates how collaboration can support and enable active community responses.
Excellence in Energy Research and Innovation
ORE group MaREI UCC
The Offshore Renewable Energy Group, in the MaREI research centre at University College Cork, coordinated a Horizon 2020 project, MaRINET2, over five years. The MaRINET2 project comprised 53 facilities across Europe that test marine energy devices and include test tanks, wind tunnels, field test sites, component test facilities, and other cross-cutting research.
This project has supported collaboration and shared learnings to strengthen the marine renewable energy industry. This is a crucial enabler to decarbonising the global economy. If they win the award, the bursary will go towards a significant conference open to the public to showcase the excellent work coming out of this project. Another action they envision is to formalise the educational programme which they piloted in Ireland and Portugal.
Residential Energy Upgrades
SOLA
SOLA Energy Solutions is a provider and installer of renewable energy systems for the new build and retrofit market. On behalf of Tipperary County Council, SOLA upgraded BER 'G' rated houses built in 1966. They achieved a BER 'A' rating using energy-efficient renewable technology and materials. SOLA is instrumental in the implementation of energy efficiency upgrade measures. The company showcases what a small local employer can achieve with the right skills and team around them. This project is an excellent reflection on the available workforce and what standards can be performed on homes throughout Ireland. Since 2015, Sola has completed over 200 full house energy upgrades.
Energy in Buildings
Wren Urban Nest - BDP
Wren Urban Nest is a 137-bed hotel in the Temple Bar district of Dublin. Sustainability and going beyond best practice were key drivers for this project. It is the first hotel in Ireland to meet the operational net zero carbon definition as defined by the World Green Building Council. The hot water, heating and cooling system is based on a combination of efficient heat pumps. Rejected heat is captured and used as a renewable source for hot water and heating. As a result, the hotel's kitchen has no reliance on gas.
The building is one of a handful of BER A-rated hotels in the country. It sources 40% of its energy from renewable resources which is four times the current NZEB requirement. The result is a luxury hotel that has a very low carbon footprint.
Innovative Deployment of Renewable Energy
Veolia
Veolia are dedicated to carbon reduction, protecting the environment, and building a circular economy. Their ground-breaking approach combines innovative technologies to deliver advanced anaerobic digestion. In this project, Veolia increased the capacity of the Osberstown Wastewater Treatment Plant and upgraded the adjacent sludge treatment facility. This project was completed for Kildare County Council and Irish Water. The project reduces CO2 emissions by more than 8,000 tonnes per annum. It also delivers energy savings to the equivalent of powering 2,700 households.
The innovative approach and new technologies are easily adaptable to similar sites. The system saved €11 million overall on capital and operational expenditure. This project shows what is possible to reduce our carbon footprint and help make Ireland more sustainable.
Energy Team
University College Cork (UCC)
University College Cork (UCC) has a student-led, research-informed and practice-focused Green Campus program. UCC's energy management team has senior representatives from the capital projects office, the estates operational team and the academic community. The energy team prioritise an energy efficiency first approach. They operate their estate, communication campaigns and energy action plans and this has proven to be the foundation of their many successes.
They have rolled out a 'Saver Saves Scheme'. This inspires the internal culture of energy savers across multiple teams. They have encouraged capital investment in UCC to reduce its overall energy consumption. Since 2016, they have implemented over 100 energy efficiency projects aligned with their ISO 5001 Energy Management Programme. These range from lighting upgrades, building management system upgrades and building retrofits. They commenced their heating decarbonisation programme in 2021. This was built on the successes of all their activities so far.