SEAI's annual publication presents the latest official statistics on energy use in Ireland. View our insights and download the full 2019 report.
Latest energy trends in Ireland
Our annual publication looks at trends in national energy use and at the underlying driving forces, such as the economy and weather. It also examines greenhouse gas emissions from energy use, energy security, cost competitiveness, and our progress towards EU renewable energy targets.
The data provided in this report is a key strand in the evidence base that SEAI provides to support the transition to a carbon neutral society.
+1.7%

The amount the economy grew in 2018

+1.6%

Increase in overall energy use in 2018

-1.2%

Reduction in energy-related CO₂ emissions in 2018
Final energy demand grew by 4.5% with increases in all sectors. This was linked to economic growth of 1.7% as measured by Modified Domestic Demand, or by 8.2% as measured by GDP.
Primary energy demand, which includes energy lost in electricity generation and other transformation sectors, increased by 1.6%.
This report shows the progress Ireland is making in our sustainable energy transition, particularly in relation to electricity. However, while emissions from electricity decreased, emissions from how we travel and heat our homes and businesses increased. And overall, the rate of emission reductions will not keep us on track to meet our long-term decarbonisation goals.
Findings from our key energy sectors
Transport
Transport continues to dominate Ireland's energy use, with a share of 42% of final consumption in 2018.
Heat
Energy used for heat increased by 6.4% in 2018. CO2 emissions from energy used for heat also increased by 6.4%.
Transport
Aviation reaches new highs. Energy used for air travel increased by 7.9%, surpassing the previous peak set in 2007 for the first time.
Aviation now accounts for 21% of energy used for transport, second only to private cars.
Heat
CO2 emissions from energy used for heat also increased by 6.4%. Storm Emma brought severe cold weather in March 2018, but over the full year the temperature was only slightly colder than 2017. If we correct for the difference in temperature, heat use still increased by 5.3%.
Energy for heat increased in Households (8.3%), Industry (4.4%) and Services (7.3%).
Electricity
28% of all electricity generated in 2018 was from wind, more than double the electricity generated from coal and peat combined.
Despite the increase in electricity generated, the energy inputs to electricity generation fell by 4.0%. Less of our electricity came from coal, and more came from wind. Coal is much less efficient and more carbon intensive than gas or renewables.
There was a 44% reduction in coal use due to a technical fault at Ireland's only coal fired electricity generation plant, Moneypoint.
The carbon intensity of electricity fell from 437 gCO2/kWh in 2017 to a new low of 375 gCO2/kWh, less than half what it was in the year 2000.
Ireland's energy balance
Oil,TPER,7148
Natural Gas,TPER,4480
Coal,TPER,725
Peat,TPER,686
Wind,TPER,743
Other Renewables,TPER,729
Non-Renewable Wastes,TPER,145
TPER,Transformation losses,2349
TPER,TFC,12324
Transformation losses,Briquetting,11
Transformation losses,Natural Gas Own Use & Losses,58
Transformation losses,Oil Refining,93
Transformation losses,Electricity Transformation & Distribution Losses,2187
TFC,Electricity Exports (net),2
TFC,Agriculture & Fisheries,251
TFC,Commercial & Public,1484
TFC,Industry,2601
TFC,Residential,2786
TFC,Transport,5202
Source: SEAI
Main points for 2018
Final energy demand grew by 4.5% in 2018, with all sectors growing. Primary energy use, which also includes losses in electricity generation and other transformation sectors, increased by 1.6%.
The following are the main trends in national fuel share for 2018:
Oil
Oil continues to be the dominant energy source and maintained a 49% share of TPER in 2018. The share of oil in overall energy use peaked in 1999 at 60%. Consumption of oil, in absolute terms, increased by 3.3% in 2018 to 7,148 ktoe but compared with 2005, oil demand in 2017 was 22% lower.
Natural gas
Natural gas use increased in 2018 by 3.8% to 4,480 ktoe and its share of TPER increased to 31%. Natural gas use was 28% higher than in 2005.
Coal and Peat
Coal use decreased by 34% in 2018 and its share of TPER fell to 4.9% down from 10.3% in 2015. Since  2005, coal demand has fallen by 61% (7.1% per annum).
Peat use fell by 1.3% in 2018 and its share of overall energy use was 4.7%.
Renewable energy
The overall share of renewables in primary energy stood at 10% in 2018 up from 9.3% in 2017.
Total renewable energy increased by 10.2% during 2018 to 1,471 ktoe in 2018. Hydro and wind increased by 0.4% and 16% respectively. Biomass use increased by 11% in 2018 to 410 ktoe and other renewables fell by 2.8% to 259 ktoe.
Electricity
Ireland continued to be a net exporter of electricity in 2018, exporting just 2 ktoe, 96% less than in 2017.
Progress towards renewable energy targets
| | | |
| --- | --- | --- |
|   | 2018 | 2020 Target |
| Overall Renewable | 11.0 | 16 |
| Renewable Transport | 7.2 | 10 |
| Renewable Heat | 6.5 | 12 |
| Renewable Electricity | 33.2 | 40 |
Source: SEAI
Ireland's target is for renewable energy to make up 16% of Gross Final Energy Consumption by 2020. We are not on track to meet this 2020 target. In 2018 it stood at 11.0%, up from 10.6% in 2017.
Renewable energy avoided 4.7 million tonnes of CO2 emissions and €620 million of fossil fuel imports in 2018.
Renewable Transport
The share of energy used for transport from renewable sources (RES-T) decreased from 7.4% in 2017 to 7.2% in 2018.
Renewable Heat
The share of energy used for heat from renewable sources (RES-H) decreased from 6.7% in 2017 to 6.5% in 2018. This was because oil and gas use for heat increased by more than renewable sources.
Renewable Electricity
Electricity generated from wind and hydro is normalised to even out annual variations in wind and rainfall. Normalised renewable electricity increased from 30.1% in 2017 to 33.2% in 2018. 85% of renewable electricity in 2018 came from wind.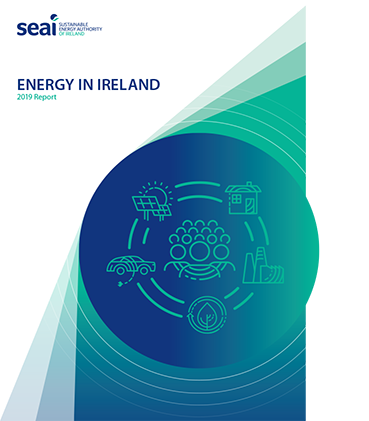 Energy in Ireland Report
The full report presents the latest national data and trends on energy efficiency and renewable energy in Ireland. It also looks at how these energy trends relate to Government and EU renewable energy targets.
Download Data in Graphs and Tables
Here you can access the data behind all of the graphs and tables in this year's Energy in Ireland report. The data is provided in Microsoft Excel format.
Also available is the conpanion publication to the main Energy in Ireland report titled Energy Statistics 2019 report.
Download Graphs and Tables Data
Download Energy Statistics 2019 report
Presentations from Energy in Ireland
Your feedback
We welcome your feedback and comments on this report. Please send your email to epssu@seai.ie.