Generate your own clean energy! We are now offering a grant for Solar Photovoltaic panels to generate electricity for homeowners.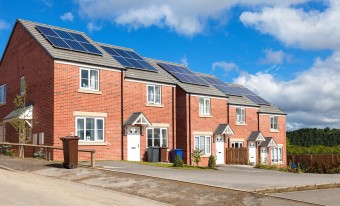 The benefits
Cheaper electricity bills
On average, a solar PV system can save between €200-€300 per year on your domestic electricity bill. This will make a big difference to you household running costs, allowing you to save for what really matters..
Improve your BER
By investing in solar PV, you will also be making an impact on the BER of your home. When it comes to selling your home, a higher BER will add value and help you achieve a higher sale price.
Grant for Solar PV
We are delighted to offer homeowners a grant to support the installation of Solar PV panels and battery energy storage systems. This will reduce the electricity you currently purchase from your supplier and save you money.
Eligibility
Support is available to all owners of dwellings built and occupied before 2011 and where SEAI have not previously provided support for solar PV system at that address.
The homes energy performance following installation of solar panels must be BER C or better.
Payback estimate
The payback period depends on
Upfront costs
Maintenance of the panels
Amount of sun falling on the panels (South facing panels will produce the most electricity)
Price paid for the electricity
The typical cost is €1,700 - €2,500 per kWp
Apply now
Solar PV grant
Example

€900 per kWp

Up to 2kWp

You will receive €1800 for 2kWp solar panels (ie 6/7 solar panels)

€300 for every additional kWp up to 4kWp if you get a battery.

Total grant available capped at €2400

For 3kWp: You will receive €2100 for 3kWp solar panels plus €600 for the battery system.

For 4kWp: You will receive €2400 for 4kWp solar panels plus €600 for the battery system.
Battery energy storage systems are also covered. They are used for larger solar PV systems, so that the excess electricity generated during daytime hours can be used at another time. This is a newer technology and recommended to be only installed in suitable homes.
Battery storage grant
€600 grant
How to apply
1. Find and appoint a registered SEAI solar PV company
Get quotes from a couple of registered companies. Choose and appoint a company and agree a formal contract with them to get the works done.
2. Make an application to SEAI for the grant offer
It is critical that homeowners do not start works until they receive the grant offer. (Grant offers are valid for eight months.)
3. Apply to ESB Networks to connect the Solar PV system to the electricity network
Your Installer must apply to ESB Networks before installing a Solar PV system. This application process takes at least 4 weeks (20 working days).
4. Install your solar PV panels
Get your solar PV system installed and either pay the installer or arrange a payment agreement.
5. Get a post-works BER
A post works BER is required and the cost is included in the grant amount.
7. Solar PV company submit evidence of works to SEAI
Your solar PV company will give you the documentation related to your installation and they will submit copies to SEAI electronically.
8. SEAI process the claim
Due to the popularity of this scheme please allow up to 6 weeks for payment, with additional time if an inspection is required.
Find a registered installer
Learn more about Solar PV
Before investing in Solar PV, take some time to understand what Solar PV is and how we can generate electricity from it. Not all homes are suitable so it is definitely worth doing your research. When should I invest? what are the planning considerations? what's the payback? These are all valid questions and should be answered before you make the investment.
Learn more about Solar PV