Meter Tails in a Domestic Setting
Meter Tails are the cables which carry electricity from the national grid to your Electrical Installation. Read this blog on how best to manage Meter Tails for additions to electrical installations like EV Home Chargers and Heat Pumps
Meter Tails are live cables that carry your whole electricity supply from the electricity grid to your Meter Board (these are the responsibility of ESB Networks (ESBN)) and from your Meter Board to your Distribution Board (These are the responsibility of the consumer).
Meter tails may need to be replaced when worn or undersized. When new electrical appliances are installed in your home, and increased electrical demand is required, it's recommended that the main conductor (meter tail) is sized to accommodate the increased new demand.  
What size should your Meter Tails be?
Typically, houses built prior to the mid 90's were serviced with meter tails with a cross sectional area (CSA) of 10mm2 or less. Prior to this time, electrical loads in a home were significantly less than what is considered the normal today which is why a smaller CSA was appropriate at the time. 
After this period, under the National Rules for Electrical Installations, the standardised sizing of domestic meter tails increased to a CSA of 16mm2. This size of meter tail is much safer and will accommodate additional power demand. The bigger the CSA, the more current an electrical cable can carry.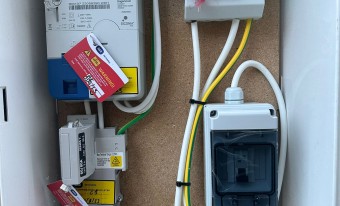 Upgraded 16KVA Compliant Meter Tail
When meter tails are undersized and you install, for example, an electric vehicle home charger, solar array or a heat pump, there is a safety risk due to under-sized meter tails. In fact the Irish wiring rules require that prior to carrying out a modification or addition to any electrical installation, the Registered Electrical Contractor (REC) is required to access the existing installation and modify or upgrade any part of the existing installation which will be affected by the increased load.  
You should always seek advice from a REC when you are getting a new electrical installation at your home. Your REC should complete a review of both sets of meter tails as part of their service. They will then be able to advise you on the correct sizing and any additional works that you might require to facilitate your installation. 
If the meter tails need to be upgraded on the grid side, this work can only be carried out by an ESBN technician and there will be a call out fee associated with it. ESBN are currently rolling out smart meters in homes across Ireland. As part of this roll out, if they encounter under-sized meter tails on the grid side, they will upgrade the meter tails up to the new standard of 16mm at no cost.
For the home side, your REC must confirm your meter tails are complaint with the National Rules for Electrical Installations for the installation and can cater for the increased electrical load.  The REC will have to carry out various tests to confirm that the installation is fit for continued use. This can sometimes highlight pre-existing safety issues which the customer was unaware of. 
In some cases there may be significant electrical works that need to be carried out to ensure the installation is safe.  The REC will then have to issue a pre connection certificate to Safe Electric for validation. When the certificate is deemed valid by Safe Electric, it is forwarded to ESBN and the work can commence. The homeowner must pay a service alteration fee which is normally approx. €180. 
 At this point an ESB engineer will be sent to the installation to upgrade the ESB side of the tails. The REC will then be informed that this is live and will return to the property to carry out the mandatory post connection tests. This will then complete the process. 
Undersized meter tails are a safety risk and potentially a risk of fire, charging equipment should not be used if meter tails are undersized. 
Are you looking to install an EV home charger? Click the link below to check out our grants and remember to get your electrician to review your home first.