We offer a range of supports to help SMEs on their energy efficiency journey.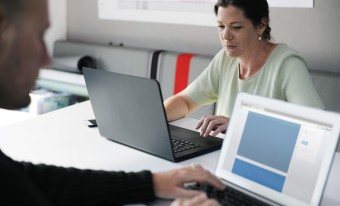 SEAI's Energy Academy
Our new e-learning platform will bring you the very best in energy management online training. Designed specifically with small to medium sized business in mind, the learning platform will help meet the needs of your employees and your business.
Learn more
Energy training workshops
We offer an 'Introduction to Energy Management' course for SMEs. This is a one day workshop designed to help you understand how much your business is spending on energy and what energy-saving measures you could implement to reduce consumption and cut your bills by up to 30%.
Energy Management Guide and Workbook
During the training workshop, we use the SEAI Energy Management Guide for SMEs and supporting Workbook as a teaching tool.
The guide and the workbook helps you assess your current energy use and the practices you can put in place to save energy. Use the workbook to kick start your own energy management programme. The completed sample workbook serves as a reference as you make your way through the process.​
Upcoming 2020 Workshops
All workshops are currently postpoed until further notice.
Financial supports
Keep an eye on this page for information on any upcoming financial support tailored for SMEs. In the meantime, visit our Business Grants and Supports section for a full overview of what we currently have on offer.
Learn more
Workplace resources
The following downloadable resources will help your business identify, plan, and implement energy saving changes in the workplace.
SME Guide to Energy Efficiency
This practical guide outlines advice and ideas that will help any business become more energy efficient.
Energy Awareness Posters
Download these posters to customise with your logo and energy saving message. There are three different designs available in A4 and A3 format.
Energy Saving Stickers
Download these stickers and print using standard office labels. Small: 38.1 x 21.17 mm (example Avery L7651) and large: 63.5 x 38.1 mm (example Avery J8160-10).
Contact us
If you are an SME looking to improve your energy efficiency and reduce your energy costs, please sign up to our mailing list and we will keep you up to date on all the supports available. If you would like to speak to us directly, please do not hesitate to email or phone us directly.
Email: Business@seai.ie
Phone: 01 8082100