Generate renewable electricity for your home using solar photovoltaic panels.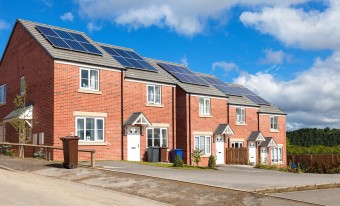 About the grant
This grant will help you install Solar PV panels in your home to generate renewable electricity. Learn about the grant values and how to apply.
Grant value for solar electricity
* the grant is paid on a pro rata basis e.g. for a 2.5kWp system the grant value would be €1,950
Grant name
Value
Example

Solar PV grant

€900 per kWp up to 2kWp

€1800 for 2kWp solar panels

 

€300 for every additional kWp up to 4kWp

Total Solar PV grant capped at €2400

€2100 for 3kWp solar panels

€2400 for 4kWp solar panels
Who can apply
All homeowners, including private landlords, whose homes were built and occupied before 2021 can apply. This is defined as the date your electricity meter was installed. This is different to other grant measures where the home must be built before 2011.
Before you apply
Before you invest in Solar PV you must familiarise yourself with the contents of the Solar PV Scheme Application Guide which includes the Terms and Conditions of the scheme. It can be found at the bottom of this page. It's worth doing some research on solar PV technology and the registered solar PV companies on the scheme. See if your home is ready for renewables, what you can expect to pay and estimate your payback.
Learn about Solar PV
How to apply
1. Find and appoint a registered SEAI solar PV company
Get quotes from a couple of registered companies. Choose a company and agree a formal contract with them to get the works done.
2. Apply to SEAI for grant offer
Apply for your grant and wait for your grant offer before you start the works. Do not start works until you receive the grant offer. Grant offers are valid for eight months. Please note the grant, once approved, is only payable in respect of the measure, size of installation and grant amount referenced in the Grant Offer. Should you wish to increase the size of your array, you will need to contact the Solar PV Team in advance of works commencing, including up to the day of the install, but before works start
Top Tip – incorrect bank details can delay your grant payment. When entering the BIC and IBAN make sure the details are correct.
For your attention, please note both KBC and Ulster Bank are exiting the Irish market.  Please ensure that you use an alternative bank for processing of your SEAI grant payment to avoid any disruption with your payment.
3. Installer applies to ESB Networks
Your installer must apply to ESB Networks to connect the solar PV system to the electricity network. They must do this before installing the Solar PV system. This application process takes at least 4 weeks / 20 working days.
4. Install solar PV panels
Your solar PV system can now be installed. You either pay the Solar PV Company or make a payment agreement.
5. Arrange a post works BER
Before your grant can be processed you must get a post works BER carried out. You must engage a BER assessor to do this.
Top Tip – many homeowners forget this step and end up waiting longer for their grant payment. Try to get your BER arranged immediately after your solar PV has been installed. This will speed up your grant payment.
6. Company submits evidence of works to SEAI
Your solar PV company will give you the documentation related to your installation. They will submit copies to SEAI electronically.
Top Tip - SEAI can only process grant payment once your solar PV company has uploaded ALL of the required documentation. Try to get your solar PV company to upload ALL documentation ASAP after the installation, ideally within 1-3 days of completion.
7. SEAI process the claim
Applications for payment can only be processed once ALL documentation has been uploaded and the post works BER is complete and published by your BER assessor. From this point onwards, please allow between 4 to 6 weeks for payment, with additional time if an inspection is required.
Compare home energy options
There are a number of options to get a full home energy upgrade. Compare them and take a step towards a warmer, more energy efficient home.
Individual Energy Upgrade Grants

(Formerly Better Energy Homes and Solar PV schemes)

Selection of individual grants for home energy upgrades

Part funded with SEAI grants

Homeowners manage their upgrades including:

contractor selection
grant application
contractor works
follow up BER

Who this is for

homeowners and private landlords

One Stop Shop Service

A complete home energy upgrade solution

Part funded with SEAI grants

Managed by a One Stop Shop including:

home energy assessment
grant application
project management
contractor works
follow up BER

Who this is for

homeowners and private landlords

Fully Funded Energy Upgrade

(Formerly Warmer Homes)

For qualifying homeowners

Fully funded by SEAI

Managed by SEAI and includes:

home survey
contractor selection
contractor works
follow up BER

Who this is for

qualifying homeowners in receipt of certain welfare benefits
Solar PV Supports
Solar PV Document Downloads
Solar PV Homeowner Supports
Solar PV Company Supports
Solar PV Technical Bulletins
Plan your home energy upgrade
Your home energy upgrade journey should be done in 3 steps. Following this process gives you the best results for your investment at every stage.
3 steps to a warmer home